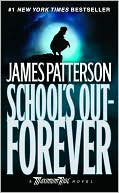 Fourteen-year-old Maximum Ride and the other members of the Flock--Fang, Iggy, Nudge, Gasman and Angel--are just like ordinary kids--only they have wings and can fly. It seems like a dream come true--except that they're being hunted by half-human, half-wolf Erasers who can fly, too.
In Book 2 of the series, the Flock members are taken under the wing of an FBI agent and try to live normal lives by going to school, making friends--and continuing their relentless search for their parents. But the Erasers return, forcing the Flock to abandon their search and make their escape once again. The voice inside Max's head keeps telling her that it's up to her to save the world, but this is especially challenging to do when she is faced with her ultimate match: a newer and better version of herself, Maximum Ride II. Max's heart-stopping quest to investigate the mind-blowing mystery of her ultimate destiny continues in the scariest, strangest, and funniest James Patterson novel yet.
---------------------------------
School's Out- Forever jumps right into the action where The Angel Experiment left off. I loved The Angel Experiment so I had pretty high expectations for this installment. I'd glad to report that I wasn't let down whatsoever.

SOF was just as action-packed and thrilling as its predecessor. Maybe even more so. Some mind-boggling new developments and tough situations will leave readers breathless and wanting more. I found it hard to put this book down. It's addicting, I tell ya!
The characters get more developed as the story moves along. Chapters from Ari's point of view helped clarify things. I liked being able to see his true motives, not just what Max and the others presume about him.
Patterson's gripping novel will appeal to males and females of all ages. His writing style will also appeal to reluctant readers. The chapters are very short (2-4 pages each) so there are plenty of good stopping points. Since they're so short, I felt like a lot had happened in a short amount of time. There was never a boring moment.
Overall, this was a great read. This series just keeps getting better and better. I highly recommend it!
5 out of 5 stars