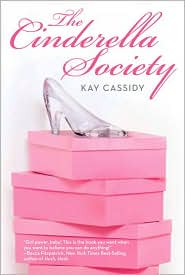 I picked up
The Cinderella Society
from my local library because I liked the cover and the info on the inside flap sounded cute and interesting. However, cute and interesting doesn't quite cover everything that
TCS
was. It had a serious side as well.
TCS
follows Jess Parker as she gets initiated into a secret society whose mission is to balance out forces of evil. There are makeovers, wardrobe overhauls, and boy dilemmas involved. Teen readers will have no trouble relating to bullying and needing backup in order to rise above peer pressure. I liked that Jess starts out as an underdog and slowly realizes her potential to shine. This reminds us that regular people ("reggies") have the power to make a difference. Kay Cassidy makes that message loud and clear without sounding too preachy.
Jess was a very real character. She was smart, funny, and full of insecurities.
Overall, TCS was super readable and a lovely debut for Kay Cassidy. It was such a great girl power read. I'm already pining for the continuation!