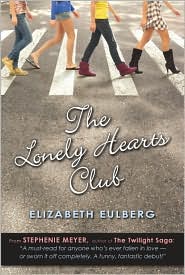 The Lonely Hearts Club
was an awesome girl power novel. After Penny gets her heart broken , she decides to swear off boys. When word gets around school, it turns out that lots of other girls share her feelings on the subject and the Lonely Hearts Club is born.
Every girl out there will be able to enthusiastically relate to thinking that boys can be a pain sometimes (or all the time, depending on the boy in question.) I really like that the story revolves around the concept that loving yourself and your friends should take priority over boys. I can admit to forgetting this important rule from time to time with less than stellar consequences so this story was especially poignant to me.
Beatles references were woven into the story nicely. From the characters names to the chapter titles, everything related back to Penny's favorite band.
The Lonely Hearts Club
was an adorable, girly, and positive read. I enjoyed every page! I'm very impressed with Elizabeth Eulberg's debut and look forward to reading more from her.