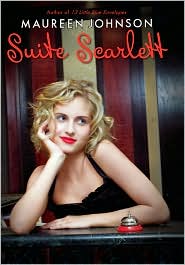 Scarlett Martin has grown up in a most unusual way. Her family owns the Hopewell, a small hotel in the heart of New York City. Her nineteen-year-old brother, Spencer, is an out of work actor facing a family deadline to get his career in order. Eighteen-year-old Lola has the delicate looks of a model, the practical nature of a nurse, and a wealthy society boyfriend. Eleven-year-old Marlene is the family terror with a tragic past.
When the Martins turn fifteen, they are each expected to take over the care of a suite in the once elegant, now shabby Art Deco hotel. For Scarlett's fifteenth birthday, she gets both a room called the Empire Suite, and a permanent guest named Mrs. Amberson. Scarlett doesn't quite know what to make of this C-list starlet, world traveler, and aspiring autobiographer who wants to take over her life. And when she meets Eric, an astonishingly gorgeous actor who has just moved to the city, her summer takes a second unexpected turn.
With Mrs. Amberson calling the shots, Spencer's career to save, Lola's love life to navigate around, and Marlene's prying eyes everywhere, things won't be easy. Before the summer is over, Scarlett will have to survive a whirlwind of thievery, Broadway glamour, romantic missteps, and theatrical deception.
The show, as they say, must always go on . . . .
Synopsis from bn.com
----------------------------------------------------
I've been in somewhat of a reading rut lately. I've had to do so much reading for school that after all that was done I just wasn't in the mood to read anything else. But thankfully, Suite Scarlett helped pull me out of that rut.
Suite Scarlett was so much fun to read. Scarlett, her crazy family, and their unpredictable lives were just what I needed to get me back into the swing of things again and help me remember why I love YA lit. Scarlett was a great main character; she was resourceful, funny, and got things done while being unsure of herself and confused at the same time. Basically, any girl can relate to her - whether it be to her not-boyfriend, complicated family, or summer job.
Maureen Johnson's writing is fantastic; she was hilarious, sarcastic, and witty. Suite Scarlett was an all-around good read and I am so looking forward to reading more from this author.
A-
Disclosure: I bought Suite Scarlett myself. Cover picture and synopsis from bn.com