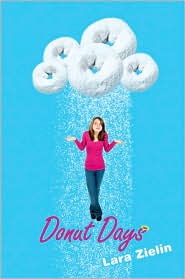 Emma has a lot going on. Her best friend's not speaking to her, a boy she's known all her life is suddenly smokin' hot and in love with her, and oh yes, her evangelical minister parents may lose their church, especially if her mother keeps giving sermons saying Adam was a hermaphrodite.
But this weekend Emma's only focused on Crispy Dream, a hot new donut franchise opening in town, where Harley bikers and Frodo wannabes camp out waiting to be the first ones served. Writing the best feature story on the camp for the local paper might just win Emma a scholarship to attend a non- Christian college. But soon enough Emma finds the donut camp isn't quite the perfect escape from all her troubles at Living Word Redeemer.
------------------------

When I first read the summary and then began reading the book itself, I wasn't really crazy about the premise. It was very original but for some reason I just tend to shy away from books that have anything to do with religion. Don't get me wrong, I don't have anything against religion. I just don't find it as fun to read about as other topics.
Besides that, I found
Donut Days
to be a funny, accessible story. The author's messages outshine the religious context and could still be applied to everyday life outside the church. In other words, even if you're not an evangelical Christian or religious at all you could still relate the the characters and enjoy reading the story.
I thought it was a well-written novel and a fantastic debut for Lara Zielin. I look forward to reading more from her in the future.
3.5 out of 5 stars