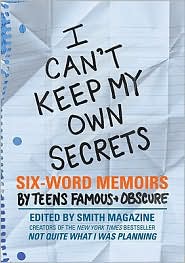 True tales of love, loss, good friends, and bad hair days filled Not Quite What I Was Planning, the New York Times bestselling first book in the Six-Word Memoir series—an international phenomenon. Some of the very best were by teens, so the editors decided to create a book written entirely by those bold, brash truth-tellers. From cancer to creativity, prom dates to promiscuity, and breaking hearts to breaking laws, the memoirs in this collection reveal that often the youngest writers have the most fascinating stories to tell.
---------------

This was a interesting book to read. It took hardly any time at all to read through but it was very eye-opening. Sometimes you forget that there are people out there who are worse off than you are. This book served to remind me just how lucky I am.
For example:
"Teen victim of shooting: lost leg."
"Falling apart because Dad's behind bars."
However, others are uplifting and inspiring:
"Cheer captain and valedictorian: stereotype annihilator."
"Never been drunk. Never been happier."
"Asperger's does not define my life."
"I'm poor. I'm going to Harvard."
Every teen will be able to relate to something from this book. There are memoirs written in every tone you can imagine. This is what I'd call a "rainy day" book. I'd have to be in a certain kind of mood to read it, but sometimes it's just what you need.
I recommend this to teens who are interested in looking at some insight into other peoples lives.
4 out of 5 stars