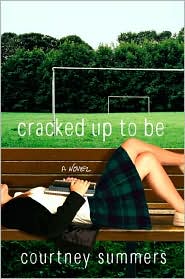 Perfect Parker Fadley isn't so perfect anymore. She's quit the cheerleading squad, she's dumped her perfect boyfriend, and she's failing school. Her parents are on a constant suicide watch and her counselors think she's playing games…but what they don't know, the real reason for this whole mess, isn't something she can say out loud. It isn't even something she can say to herself. A horrible thing has happened and it just might be her fault. If she can just remove herself from everybody--be totally alone--then everything will be okay...The problem is, nobody will let her.
---------------------------
Cracked Up To Be
was a really fast read. It just drew me in and I couldn't bear to put it down.
At first, I was enthralled with the story because I wanted to know what happened to Parker to make her throw her amazing life away. She had everything a girl could want but for some unknown reason she didn't want it anymore. She broke up with her boyfriend, stopped getting good grades, renounced her position as cheerleading captain, and started drinking at school and getting into all sorts of trouble. I was most interested in seeing how a person could suddenly just make their personality do a 180 degree turn.
Parker was an interesting character to read about and she had a great voice. Her wit, snark, and attitude made her seem so real.
I really liked Summers' writing style. Every so often she would add in flashbacks that clued you in to past events.
The drama builds up until in the end you finally find out just what happened to mess up Parker's life so much. Not disappointingly, it makes sense and wholly satisfies you.
Overall,
Cracked Up To Be
was an interesting read that you'll devour in no time. I recommend it!
4 out of 5 stars