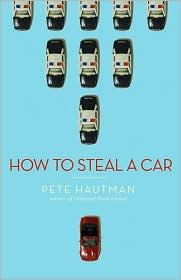 How To Steal A Car by Pete Hautman
Pub. Date:
September 1, 2009
Publisher:
Scholastic, Inc.
Some girls act out by drinking or doing drugs. Some girls act out by sleeping with guys. Some girls act out by starving themselves or cutting themselves. Some girls act out by being a bitch to other girls.
Not Kelleigh. Kelleigh steals cars.
In How to Steal a Car, National Book Award winner Pete Hautman takes teen readers on a thrilling, scary ride through one suburban girl's turbulent life - one car theft at a time.

--------------------
Does this book look crazy, or what? That synopsis makes me want to run out to the bookstore right now and buy this. Too bad I have to wait almost three months until September! I like the cover a lot, too. Ah, so many awesome books, too long to wait!

The Waiting On Wednesday feature was created by Jill at Breaking The Spine.