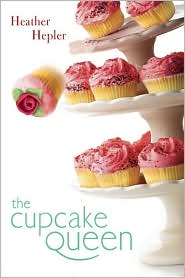 The Cupcake Queen by Heather Hepler
Pub. Date:
September 17, 2009
Publisher:
Penguin
A confection of a novel, combining big city sophistication with small town charm. When her mother moves them from the city to a small town to open up a cupcake bakery, Penny's life isn't what she expected. Her father has stayed behind, and Mom isn't talking about what the future holds for their family. And then there's Charity, the girl who plays mean pranks almost daily. There are also bright spots in Hog's Hollow—like Tally, an expert in Rock Paper Scissors, and Marcus, the boy who is always running on the beach. But just when it looks as though Penny is settling in, her parents ask her to make a choice that will turn everything upside down again. A sweet novel about love, creativity, and accepting life's unexpected turns.
------------------
The cover is what originally made me take a second look at this book. I mean, those cupcakes look delicious! The synopsis, though, looks really interesting too. This is Heather Hepler's first solo novel, all her previous ones have been collaborations with Brad Barkley. I haven't read anything she's worked on before but I have some high expectations!
The Waiting On Wednesday feature was created by Jill at
Breaking The Spine
.