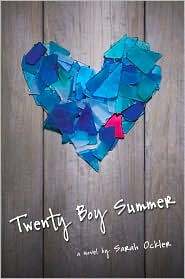 "Don't worry, Anna. I'll tell her, okay? Just let me think about the best way to do it."
"Okay."
"Promise me? Promise you won't say anything?"
"Don't worry." I laughed. "It's our secret, right?"
According to her best friend Frankie, twenty days in
Zanzibar
Bay
is the perfect opportunity to have a summer fling, and if they meet one boy ever day, there's a pretty good chance Anna will find her first summer romance. Anna lightheartedly agrees to the game, but there's something she hasn't told Frankie---she's already had that kind of romance, and it was with Frankie's older brother, Matt, just before his tragic death one year ago.
Beautifully written and emotionally honest, this is a debut novel that explores what it truly means to love someone and what it means to grieve, and ultimately, how to make the most of every single moment this world has to offer.
---------------------------
So, by now, I'm sure you've read tons of raving reviews of
Twenty Boy Summer
. While I did really enjoy it, I don't want to gush over it. So I'm just going to briefly reaffirm everything you already know.
This novel was indeed beautifully written. I actually stayed up until two in the morning just so I could finish it. I was very impressed with the range of emotions it was able to invoke in me. Everything from grief to anger to joy to love was surprisingly well covered. None of these were too intense, though - it was all well-balanced.
Twenty Boy Summer
is the ultimate love story (sorry for gushing!) - in every sense. There's the best friend relationship Anna, Frankie, and Matt shared for one. Of course, there is romance between Anna and Matt and Anna and Sam. Then there's familial love, too.
The plot itself was so intriguing that even if the writing had sucked (which it most definitely did not) I'd still probably have wanted to keep reading it. It was so much fun to read - I can certainly see myself rereading this again in the future.
Overall, it was a very impressive debut novel. I recommend it.
What a pretty cover! I love the sea glass heart - it's very fitting to the story.
4.5 out of 5 stars