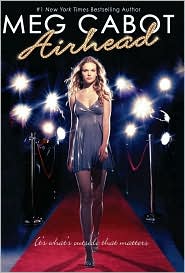 Synopsis:
Emerson Watts didn't even want to go to the new SoHo Stark Megastore grand opening. But someone needed to look out for her sister, Frida, whose crush, British heartthrob Gabriel Luna, would be singing and signing autographs there-along with the newly appointed Face of Stark, teen supermodel sensation Nikki Howard.
How was Em to know that disaster would strike, changing her-and life as she'd known it-forever? One bizarre accident later, and Em Watts, always the tomboy, never the party princess, is no longer herself. Literally.
Now getting her best friend, Christopher, to notice that she's actually a girl is the least of Em's problems.
But what Em's pretty sure she'll never be able to accept might just turn out to be the one thing that's going to make her dream come true . . . .
NIKKI HOWARD IS HERE TO STAY.
--------------
I loved Meg Cabot's previous novels, so I had some pretty high expectations when I picked this one up. I'm happy to report that I wasn't disappointed. Airhead was something completely different from any of Cabot's other books. Think Robin Wasserman's Skinned with a more romantic, girly, celeb-ish twist.
Em was a completely real, believable character. She was fun to read about because she was just a normal girl thrown into a totally insane situation. It was interesting to see how she dealt with being in Nikki Howard's body. Initially she freaked out - and who could blame her? Later on in the story, however, she starts to adjust.
One of my favorite parts of the novel was her feelings for Christopher. He had been her best friend (although she wanted to be more) for years and she was having a hard time dealing with the fact that she couldn't tell him that it was really her inside that gorgeous body. I love novels that aren't dominantly love stories but that have nice, romantic subplots. This novel definitely had some romantic dilemnas but they weren't the main focus of the story.
I would describe this novel as sci-fi for people who don't like sci-fi. The whole "full body transplant" concept is an intiguing procedure of the future (I've heard they've actually done it to monkeys, but don't quote me on that) that makes for a fastpaced, fun book.
I read this in one day because it was so readable and I just didn't want to put it down! Airhead is now probably my favorite of Meg Cabot's books. I can't wait to get my hands on the second and eventually the third books in this series.
5 out of 5 stars
Recommended if you:
-enjoyed Meg Cabot's previous novels
-liked Skinned by Robin Wasserman
-like reading about futuristic medical procedures written in a fun, realistic way
-don't think you'd like sci-fi but like the idea of a regular girl adjusting to become a model (Trust me! I swear, you won't even know it's sci-fi)