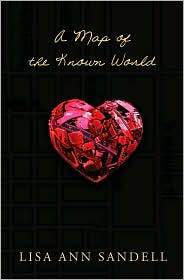 Cora Bradley dreams of escape. Ever since her reckless older brother, Nate, died in a car crash, Cora has felt suffocated by her small town and high school. She seeks solace in drawing beautiful maps, envisioning herself in exotic locales. When Cora begins to fall for Damian, the handsome, brooding boy who was in the car with Nate the night he died, she uncovers her brother's secret artistic life and realizes she had more in common with him than she ever imagined. With stunning lyricism, Sandell weaves a tale of one girl's journey through the redemptive powers of art, friendship, and love.


------------------------
A Map of the Known World told a great story of love and loss. Emotions that this story will evoke in readers range from sadness to frustration to triumph.
When Cora's brother Nate died in a car crash, her whole family was devastated. Now, six months later, her family is still in a state of numbness. Her father completely withdraws from life and her mother becomes very overprotective. Cora, however, is tired of living like that. She wants to continue on with her life, to experience all that the world has to offer.
She starts spending increasing amounts of time with Damian, the guy that was her brother's best friend. He helps her to get to know a side of Nate that she had never known before - his artistic, creative self. Seeing his beatiful creations helps motivates Cora to unleash her artistic abilities and finish Nate's last piece.
When her best friend ditches her for the "Nasties" she is disappointed at first but gradually forms another friendship to take its place. It's interesting to watch Cora realize that she is stronger than she knows.
I loved watching Cora and Damian's relationship develop into something more than just a friendship. I was very satisfied with the ending as well.
Overall, I was very happy with how this story played out. I could relate to Cora's need to get out and see the world and just live because I live in a reeeally small town like she did and sometimes it can be a bit smothering. I fell in love with the characters, especially Helena. We all need someone like her. I recommend this book to anyone who likes traditional YA literature.
5 out of 5 stars
Recommended if you:
-liked Lisa Ann Sandell's previous novels & writing style in them
-liked the movie 'Raise Your Voice'
-like stories where a sibling dies and the rest of the family has to deal with their grief
-like to create or read about art