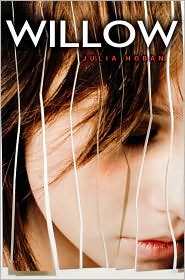 Seven months ago, on a rainy March night, sixteen year- old Willow's parents died in a horrible car accident. Willow was driving. Now her older brother barely speaks to her, her new classmates know her as the killer orphan girl, and Willow is blocking the pain by secretly cutting herself. But when one boy —one sensitive, soulful boy—discovers Willow's secret, it sparks an intense relationship that turns the "safe" world Willow has created for herself upside down.
Told in an extraordinary fresh voice, Willow is an unforgettable novel about one girl's struggle to cope with tragedy, and one boy's refusal to give up on her.

---------------------

This was one of the saddest books I've ever read. Willow was permanently in a foul mood (which is understandable, considering) which made me in a sad mood just reading it. You really
feel
Willow's emotions.
It's such a tragedy that Willow turned to cutting to help her deal with the loss of her parents. However, it does help you understand the cutters' reasoning for doing what they do. It also educates you on signs and things to look for in someone you suspect of cutting.
I grew to care about Willow so much that I wanted to scream at her "Hey! It wasn't your fault! It could've happened to anyone!" She was a very memorable character.
Willow
was very well-written and I can see myself rereading this again later. I recommend this if you are a cutter, know someone who is, want to read about characters who cut themselves, or just want to read a highly emotional novel. I think it was a very intense debut for Julia Hoban. I'll make sure to pick up her future works.
4.5 out of 5 stars