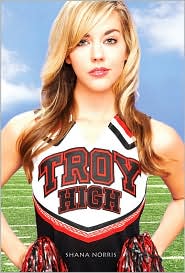 Homer's
Iliad
, the classic tale of love and revenge, is shrewdly retold for teens in
Troy High.

Narrated by Cassie, a shy outsider who fears that an epic high school rivalry is about to go up in flames, the story follows the Trojans and Spartans as they declare war on the football field. After the beautiful Elena—who used to be the captain of the Spartan cheerleaders—transfers to Troy High and falls madly in love with Cassie's brother Perry, the Spartans vow that the annual homecoming game will never be forgotten.
The Trojans and Spartans pull wicked pranks on each other as homecoming approaches. And the Spartans' wildcard football star, Ackley, promises to take down the Trojans' offensive line. But the stakes are raised when Cassie is forced to choose between the boy she loves (a Spartan) and loyalty to her family and school.
Troy High
will seduce readers with its incendiary cast of mythic proportions.
-------------------
Troy High
was such a fun read. It was based on Homer's
Iliad
, but even if you are unfamiliar with it you can still follow and enjoy the story. Readers who have already read the classic will still be able to have fun reading this funny, dramatic retelling.
Having not read the
Iliad
, I can't say how accurate or true to the original
Troy High
is. However, I don't think it really matters. Shana Norris did get the idea for the main storyline from the Iliad, but she took it and made it into something entirely her own which, in my opinion, is awesome. I think that Troy High will appeal more to teens because of its modern language and setting.
If you're a fan of remakes, you'll be sure to love
Troy High
.
Teens will be able to relate to all the high school drama and rivalries. I highly recommend this to anyone looking for an interesting, fun read.
3.5 out of 5 stars