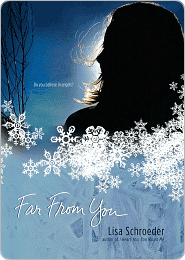 Lost and alone...down the rabbit hole.
Years have passed since Alice lost her mother to cancer, but time hasn't quite healed the wound. Alice copes the best she can by writing her music, losing herself in her love for her boyfriend, and distancing herself from her father and his new wife.
But when a deadly snowstorm traps Alice with her stepmother and newborn half sister, she'll face issues she's been avoiding for too long. As Alice looks to the heavens for guidance, she discovers something wonderful.
Perhaps she's not so alone after all....
--------------------
I wasn't sure if I'd like reading a novel in verse (I thought it'd be like poetry, which I can't seem to understand at all) but I discovered that it's fun and easy to read. It gets all the points across that regular novels do, but in a shorter and more lyrical form. It is perhaps a type of writing you'd have to be in the mood to read, but once you get into it it's hard to stop.
I was very impressed by
Far From You
. After all, it's hard enough to get words down on paper or computer screen and get them to make sense and create a story but to get them into a certain pattern and still do all that? Doesn't sound like an easy task to me..
Do not be deceived by the size or number of pages of this book. It is an insanely quick read.
The story itself was very touching. I enjoyed seeing the characters and their relationships grow and develop. It was nice to see Alice get closer to her stepmother and realize that she isn't such a bad person after all. I found it easy to relate to her.
There was minimal physical description of the characters. This lets you choose exactly how you want to picture them in your minds eye.
Overall, this was a great read. I count it among my favorites. I highly recommend it.
5 out of 5 stars