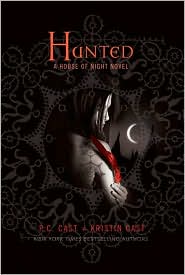 When it comes to vampire books, the House of Night series is definitely one of my favorites. I can't wait to read
Hunted
, the 5th book in the series. It's being released on March 10, 2009, a week from today.
The cover looks amazing and from the following synopsis (from bn.com) the story itself looks really interesting..
The good news: Zoey's friends have her back again and Stevie Rae and the red fledglings aren't Neferet's secrets any longer. The bad news: Ancient evil with the face of an angel has been let loose – that and various other nasties (whose faces aren't so angelic). Grandma Redbird is in trouble. Heath is in trouble. The House of Night is in trouble. Okay, let's face it – Zoey's whole world is in trouble! But when the trouble comes from a being who appears to be beauty personified, will the world believe it? Especially when only a teenager and a group of misfits are the only ones who really understand the danger he brings. Will Zoey have the strength and wisdom to reveal the truth? Especially when, in the House of Night, the truth is often hard to come by…
So in the meantime, watch this book trailer!
You can read the first chapter
here
. Once you've done that, you can listen to the second chapter in audio form by clicking below.