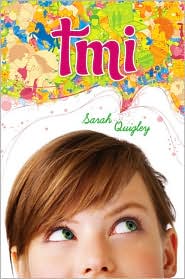 Synopsis from bn.com:
Friends call Becca the Overshare Queen, but her tendency for TMI never seemed like a problem to her until she blabs about her sweet band-geek boyfriend's sloppy kisses-
and gets dumped!
Realizing it may be better to resist the temptation to overshare face-to-face, Becca decides to blog anonymously about everything instead. On her blog, Too Much Information, Becca unleashes her alter ego, Bella. Bella tells it like it is . . . though perhaps with a
bit
more drama. After all, no one's going to read it, right???
TMI was soo fun to read. The plot was hilarious and very believable. I happen to know someone who feels the need to share every little thing like Becca does so it was interesting to see things from that point of view. I also live in a small (actually microscopic would be a better word) town so I could relate to how everyone has to know everyone else's business. Basically, there is no such thing as keeping secrets, even if you wanted to. I could also relate to being repulsed by the guys in the 'Rod and Gun Club' because every single guy at my high school acts exactly like that. Sad, right?
This novel had some of the best writing I've seen in awhile. The plot was original and it kept me interested. I was hooked from the first page. Literally. The first line of the first chapter was so random/crazy/funny I just had to keep reading. An important quality I like to see in the books I read is being able relate to the characters and this one definitely had that for me.
I really enjoyed reading this book and I highly recommend it. I'm looking forward to reading more from Sarah Quigley in the future!
TMI comes out on April 16th!
5 out of 5 stars