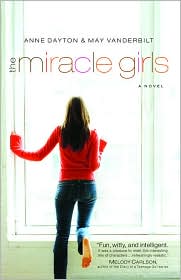 I would describe The Miracle Girls as being an 'okay' book. I can't put my finger on what was wrong with it exactly, but it just didn't grab my attention. I simply wasn't a fan of Ana's voice. The characters were likeable but not highly original. I thought the plot was strikingly similar to that of It's All About Me by Shelley Adina. They both take place in California and the girls have similar experiences.
It was interesting, however, that all the girls had lived through situations where they should have died. A good basis for an intriguing plot, but I didn't like where the authors took the story from there. There were a few good plot twists but not nearly enough. I have to admit that there was more than one boring moment. This novel was not something I would want to read again and again but it was entertaining at the time.
3 out of 5 stars
I recommend this book if you:
-liked the It's All About Me series by Shelley Adina
-liked the Sweet Seasons series by Debbie Viguie
-liked the Carter House Girls series by Melody Carlson
-are a Christian
-like contemporary Christian fiction
-liked Dayton & Vanderbilt's past novels
The sequel to The Miracle Girls,
Breaking Up Is Hard To Do
, will come out April 16, 2009. (Review coming soon!)
The third book in the Miracle Girls series, A Little Help From My Friends, is set to be released October 15, 2009.