Hmm..possibly a meme overload on Tuesdays? I think I'll move Book Trailer Tuesday to Saturday. I haven't been getting very many comments on that anyway. =[
This is the first time I've done this particular meme so let me know if you think I should continue it!
Grab your current read.
Let the book fall open to a random page.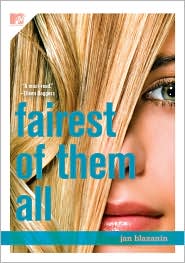 Share with us two (2) "teaser" sentences from that page, somewhere between lines 7 and 12.
You also need to share the title of the book that you're getting your "teaser" from … that way people can have some great book recommendations if they like the teaser you've given!
Please avoid spoilers!
Join the list at
Should Be Reading
.
This teaser is from Fairest of Them All by Jan Blazanin. I'm on page 150 out of 262 and I'm loving it so far.
"She gives us required reading for English Lit every week, but who has time for that?"
"We got a callback!" Mom screams into the phone, and I jerk it away from my ear."