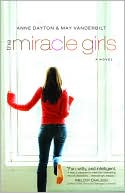 Grab your current read.
Let the book fall open to a random page.
Share with us two (2) "teaser" sentences from that page, somewhere between lines 7 and 12.
You also need to share the title of the book that you're getting your "teaser" from … that way people can have some great book recommendations if they like the teaser you've given!
Please avoid spoilers!
Join the list at
Should Be Reading
.
"Christine holds up the rolling pin, takes a deep breath, then walks out of the kitchen and disappears into the hallway."
"All I really want to do is hide under the kitchen table."
From page 162 of The Miracle Girls by Anne Dayton and May Vanderbilt