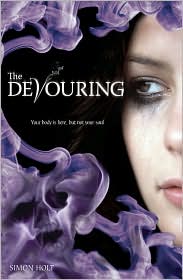 When Reggie finds an old journal and reads about the Vours, supernatural creatures who feast on fear and attack on the eve of the winter solstice, she assumes they are just the musings of some lunatic author. But soon, they become a terrifying reality when she begins to suspect that her timid younger brother might be one of their victims.
Risking her life and her sanity, Reggie enters a living nightmare to save the people she loves. Can she devour own her fears before they devour her?
Bone-chilling, terrifying, thrilling...
what are you waiting for
?
--------------------------
The Devouring was a truly creepy novel. Simon Holt did a great job of spinning a terrifying story that will fascinate readers and keep them interested from the first page on.
I'm not one for scary stories or even horror movies so I admit I was rather reluctant to pick this one up. But now I'm glad I did! I was very intrigued by the idea of Vours, monstrous creatures that inhabit humans and feed off of their fears. It was very entertaining to watch Reggie slowly learn about them and begin to combat them in order to get her brother back.
The plot was fast-paced and devoid of anything too gross or gore-y (which I was very happy/thankful about).
If you're a scaredy-cat like me, I suggest reading it during the daytime and not right before bed. Yes, I know how pathetic and wussy-ish that sounds. =P
Overall, I was very impressed with Simon Holt's debut novel. It was wholly satisfying and a great read. And just look at that cover! The smudged makeup + the purple smoke = pretty and creepy at the same time!
Be on the lookout for my review of the sequel, Soulstice, closer to its pub date: September 1, 2009.
4 out of 5 stars