Darlene Ryan is the author of the YA novel Five Minutes More which was released April 1, 2009.
Keep reading if you want to win a copy of her book!

----------------------

Are experiences in your novel based on someone you know, or events in your own life?
There's a little bit of my own life experience in this book. A guy I went to school with committed suicide when we were teenagers. I still remember how shocked and sad and hurt we all were. He had moved away, but we all still considered him a friend. It didn't make any sense. No one knew there was anything wrong in his life.

What sets Five Minutes More apart from other YA novels?
That's a hard question. I think the fact that it's written in the present tense will be different for some readers and intriguing for others. The book deals with some sad and serious things, but in the end it's not a sad book—at least not to me.

What would you like readers to take away from reading FMM?
Most of all, I hope readers feel they got a good story. I don't want a reader to finish the book and say, "Well, that was boring."

In FMM, D'Arcy's father committed suicide. What would you say to someone in this situation in real life?
Please, please don't do it. There are people who care about you and who will help you. Ask for help and keep asking for it until you get what you need.

D'Arcy's father chose to drive his car into a river. Why did you choose this form of suicide?
I read a news story somewhere, I don't remember where now, about someone who committed suicide by driving into the water and it stayed with me. I'd never heard of someone doing that.

Why did you choose to write books geared toward young adults?
Even as an adult I like to read books written for teens. I think writing about teens is fascinating. There's so much happening at that time in your life.

Who is your favorite author and what is it that really strikes you about their work?
One? There's no way I can pick just one. I'm a huge fan of children's writer, Robert Munsch. As far as young adult authors go, I like Kevin Major and Graham Mcnamee. Mcnamee's Hate You is a terrific book. My list of favorite adult writers is long—LynnViehl's Darkyn series is a favorite. I like Kim Harrison, Robert Crais, Tim Cockey, Harlan Coben, Kelley Armstrong and Kurt Vonnegut. If I could only pick one writer as a favorite it would be Vonnegut. He makes me think. He makes me laugh. I've been reading his books since high school. (And I'm not telling you how long ago that was!)

Are you working on any new YA novels? If so, can you tell us a little about them?
I'm working on a book about a bunch of street kids. The idea for that started when I read a newspaper article about a group of homeless people setting up a tent city on the riverbank. (You'll notice things I read in the newspaper seem to stick with me.)

What are you currently reading?
I always have more than one book on the go at a time. I'm reading Amber Benson's Death's Daughter. It's terrific. She's very funny. (She was Tara, on Buffy, the Vampire Slayer.) I'm also reading Collage Unleashed because I've been doing a lot more collage work recently. And I'm re-reading The Right to Write, by Julia Cameron.

What's the biggest obstacle you've had to overcome to get to where you are today as a published author?
Aside from my friends thinking I was nuts?
: )
The biggest obstacle was learning to be a better writer—working on spelling and grammar and story-telling.
I know
several people who had the first book they wrote published but I'm not one of them.


--------------------------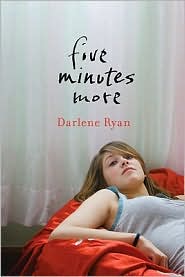 And now for the contest!



The prize:

a copy of Five Minutes More



To be entered:

Leave a legitimate comment on this post including your email address.



For extra entries:



+1 already follow or start following this blog
+2 get a friend to start following (no limits on how many you can do, but they all have to comment and tell me that you got them to follow me)
+2 link to this contest (sidebars are fine, just tell me what/where you did.)
+1 add me to your blogroll
+2 make a POST about this contest
+2 if someone tells me you referred them (no limits)
+1 Tweet about this with an @katiesbookshelf
+1 follow me on twitter
If you do something creative to get the word out about this contest that I haven't thought of already there could be some extra entries in store for you! Just tell me what you did!
PLEASE PUT ALL THIS IN ONE COMMENT!

Contest ends:

May 31, 2009